Hey team!
Welcome to September! And the first #hashtaghumpday of fall! Well, I claim September as fall, never mind the 90 degree temps outside.
Make sure to drop in on you know who - my co-host in crime and hump-day-ing - Lauren.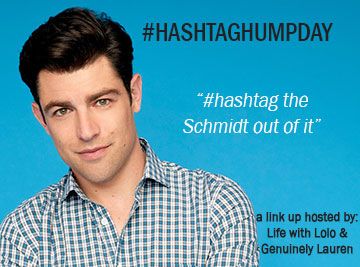 First a little business. Here's the scoop:
Each Wednesday create a post about what's going on in your life and #hashtag each item or story. See an example HERE. Be as creative as you want!
Grab the button and include it in your post

Link up so we can all #creep on you and find out what's new/funny/awesome /shitty in your life.
Comment on at least one other blogger's post from the link up (someone you don't already know!) if there even is anyone who links up…

Share on all your social sites with #hashtaghumpday
Have fun! #hashtagtheshitoutofeverything #whocaresifitsarealhashtag
Kapeesh?
Let's get on to the randomness shall we?
I've decided if I win the lottery I'm going to fly in a bunch of my blog friends to meet in real life. All here on my own turf, all at once. There are a few who are already on the list and I'm telling you,
you
want to be on this list.
So start making your pleas and pledge your love. It will involve a great vacay with yours truly and a brew tour of Boise, naturally #imbuyinglottotickets #getyourpartypantson #itcouldhappen
Everyone is doing "hello September" and "yay fall" posts and I'm all over here like, here's
what I ate
all week and here's where I
shop online
since I know you are dying to know #allaboutmyself #sorryfall
Do you ever want to talk/rant about something on your blog, but you're scared the person involved might find it? That's me this week #allthegossip #nowheretoventontheinternet
My spending is officially out of control. I thought I was done, I told myself I was done. And then I up and ordered my very first #realtimeblogger
planner
, and bought a jacket at Costco. Damn you Costco. You are like the wholesale Target #itwasonly$20 #iNEEDEDtheplanner #dontmindmewhileionlineshopsomemore
Is it bad that I already want to make the Facebook event for my annual
Ugly Sweater Party
? #readyforchristmas #itsnevertoosoon
I had my Fantasy Football draft on Sunday and it was meh. I mean I feel like I never have a good draft. Does anyone ever feel like the do? If so I hate you. Oh and I hate Yahoo for their snarky comments about how I did on my draft #letseeyoudobetter #suckit
This weekend is my 3rd trip down the aisle. As a bridesmaid. I'm so not ready for it. So much for those 20 lbs I was going to lose. Last wedding of the season though! #almostover #thankgodforopenbar #butreallyimexcited
What are you #hashtagging this week? Link up and hang out!
TTFN,